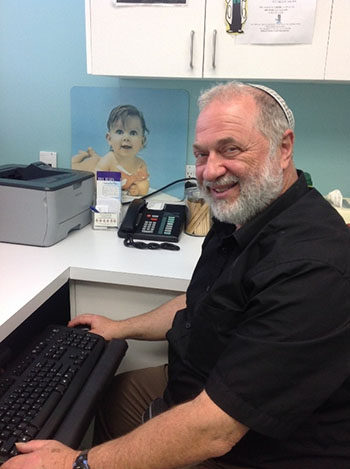 Our Medical Practice has closed
A Letter from Dr Aaron Jesin
Please note that my brit milah practice and circumcision clinic continue to be open and at your service.
It has been a pleasure and honour to look after your health for these past years. Caring for my patients has been extremely fulfilling. It is now time to devote my attention, along with my wife, to our children, grandchildren and extended family. I am planning to retire from my family medical practice at the end of January 2022.
As of January 26, 2022, Dr. Sasan Iraji will be taking over care of my family practice patients. Dr. Iraji spent several years in an orthopedic residency before switching to and completing a family practice residency. He worked for two years in the UK in family practice and two years in a practice in Mississauga.
Dr. Iraji can be reached at:
Dr. Sasan Iraji
935 Sheppard Ave. West, Unit 1,
North York, ON
M3H 2T7
Tel: 416-635-6060
He will have full access to your medical files. His office is just west of Wilson Heights on the south side of Sheppard Ave. Should you wish to transfer to a different physician, you will be able to get a copy of your files from Dr. Iraji.
Dr. Iraji will remain part of the Bathurst Family Health Organization of which I have been a part since September 2008. The FHO is actually enlarging to better serve you with expanded on-call availability.
Dr. Kronis is moving to 5927 Bathurst St. She will be in the same office as the newest member of the FHO, Dr. Ehab Soliman, and in the same building as Dr. Martin Shack. Dr. Noel Rosen remains at Bathurst and Finch.
I will continue to see my patients until the end of January within my abilities. If you have an appointment after that, you will have to call Dr. IrajiÕs office to rebook. If you have any tests that need follow up after the end of January, you will also have to be in touch with his office. Finally, if you have been told that you need follow up on a previous questionable finding, I, again, ask that you be in touch with Dr. Iraji. For example, if you needed to repeat an ultrasound, a blood test, a CT scan, an MRI or any other diagnostic test within any time frame such as 6 months, a year or any other time that you were told, please be in touch with his office to make the arrangement.
Again, it has been a pleasure being your doctor and I am assured you will have continued good medical care under Dr. Sasan Iraji.
Please note that my brit milah practice and circumcision clinic continue to be open and at your service.
Yours truly,
Dr. Aaron Jesin, Hon. B.Sc., M.D.
Aaron Jesin, Physician
Received Hon. Bachelor of Science from University of Toronto in 1973
Graduate of University of Western Ontario medical school 1977
Rotating internship St. Joseph's Hospital, London , Ontario 1977/78
Year I medical resident University of Western Ontario 1978/79
General Practice since 1979
Dr. Aaron Jesin
The Jesin Circumcision Clinic
e-mail: aaron@drjesin.com
We are closed until the New year as we are relocating. Messages will not be returned if left before Dec 15, 2022. If anyone wishes to be in touch regarding a concern about a circumcision already done, they can send an email to aaron@drjesin.com. We look look forward to helping you in the future.
Dr. Aaron Jesin
e-mail: aaron@drjesin.com